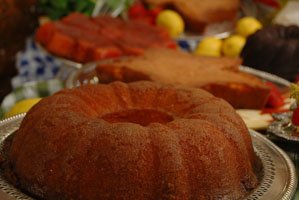 ABOUT OUR PRODUCTS
Our Lemon Cakes are made with freshly squeezed lemon juice to preserve the delicious homemade flavor. They will stay moist for weeks and require no refrigeration. They are made with all natural ingredients including - fresh eggs, butter, milk, bourbon vanilla, sugar and freshly squeezed lemon juice. They can be frozen for long term storage and make a wonderful gift.

THE SECRET to Inel's lemon cakes is using real lemon juice and no artificial ingredients and they shouldn't be eaten right away. Since they keep so well without refrigeration she recommends that they sit for at least a week before being served. While they have been known to last for several months, Inel suggests that they be eaten by about 4 weeks.
While they should never be refrigerated, they do freeze very well.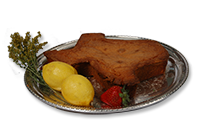 Of course the most popular lemon cakes is the one in the shape of Texas, however,
the Texas Star Lemon Cake was first conceived as an alternative when the Texas Lemon Cake may not be appropriate. Indeed, a Texas Star Lemon Cake has been sent to two presidents!
These lemon cakes are great for parties and can be served small pieces due the rich, dense nature of the recipe, however, some customers needed larger cakes for holiday buffets and so the Poinsettia Lemon Cake was developed which is 2 1/2 times the size of the Texas Star Cake.
The Pan Lemon Cake served in an aluminum is easier to make and therefore less expensive. It makes a great gift for neighbors, teachers, babysitter etc. or for anyone where you need a less expensive alternative. Though not as fancy, it tastes just as good.
The Decorated Poinsettia Lemon Cake is iced with a very thin, royal white glaze icing and then painted by hand. Each one is different and considered a real work of art.
The Chocolate Cherry Ring Cake is a chocolate cherry cake made with only the highest quality chocolate. We use dried Michigan tart cherries, plumped up before putting in the cake. It is also a rich, moist cake that will last for weeks. It is baked in the French method which gives it a nice crust with a dense fudge inside with little tart cherries.
The Gingerbread Man makes a great child's gift. It is16 inches high and is decorated gingerbread style with white icing and candies for buttons then shrink wrapped and placed on a board and then in a box. Each one is different.
Catering: Lemon Cake Cafe can cater dinner parties for as many as 500 people. We catered the United States Amateur Ballroom Dancing Association, an annual dinner for over 500 people. We have also catered many office parties, gallery openings of 250 to 300 people as well as smaller functions. Each situation is different. You can pick your food up here to serve yourself or we can deliver and provide a full range of hosting services. We utilize wait staff from the ballet company so you can be assured of an interesting event. The menu is not set but is tailored to your particular event.



Cakes come packaged in theirs own box for easy delivery and gift giving.